If you are unhappy with the appearance of your teeth, teeth bonding may be a good option for you. Teeth bonding is a dental procedure that can restore the appearance of teeth that are stained, chipped, cracked, or crooked. This article will discuss what teeth bonding is, provide teeth bonding before and after pictures, and discuss how it can help improve your smile!
---
What is Teeth Bonding?
Stained and discoloured teeth can be covered with tooth-coloured composite material easily and without great expense; the result is generally called "bonding". This method is extremely economical compared to other aesthetic procedures such as crowns and jackets.
Strictly speaking, teeth bonding is the process of adhering a tooth-coloured material to your teeth. It involves etching the surface of the tooth with an acid and then attaching adhesive chemicals to the microscopically etched surface.
Bonding can be used for the following reasons:
Repair broken teeth
Repair stained and discoloured teeth
Repair chipped or cracked teeth
Close spaces between front teeth
Change the shape of teeth
Direct Bonding:
This type of bonding is done in a single office visit. The teeth are prepared for the bonding material and then the material is applied directly to the teeth. Once the material is in place, it is hardened with a special light.
Indirect Bonding:
This type of bonding typically takes two office visits. First, your dentist will take an impression of your teeth and then place a temporary veneer on your teeth. At your second appointment, the veneers will be removed and the bonding material will be applied to your teeth. Indirect bonding procedures include:
Nowadays indirect bonding can be done in a single office visit using CAD/CAM machinery.
---
Teeth Bonding Before and After Pictures
If you are considering teeth bonding, it is helpful to see before and after pictures of teeth that have been treated with this procedure. These teeth bonding before and after pictures will give you an idea of what to expect from teeth bonding and help you decide if this is the right treatment for you.
Before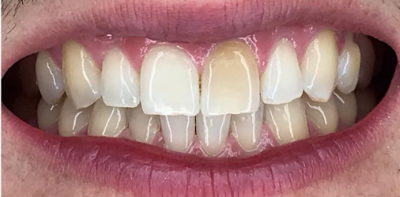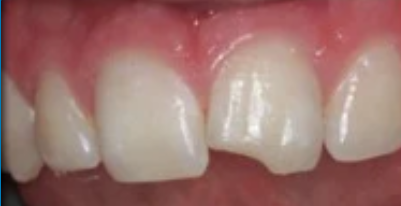 After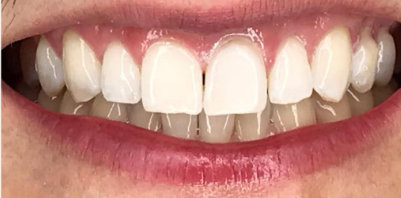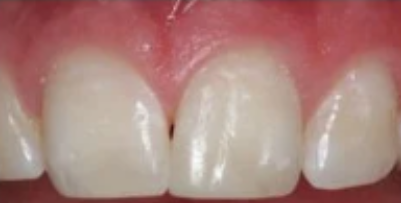 As you can see from the before and after pictures, teeth bonding can have a dramatic effect on the appearance of teeth. If you are unhappy with the way your teeth look, teeth bonding may be a good option for you.
---
Risks of Dental Bonding
Bondings have their own downsides, despite claims of some dentists.
Bonded Teeth are More Prone to Chipping
Bonding is an invasive process that involves the grinding of the teeth and nothing is better than the original structure of your teeth. Bonding does not stand up well to heavy chewing and may chip if placed in an area of sizable chewing impact. This risk makes it likely that bonding will need to be redone at 5-10 year intervals.
Bonded Teeth are More Likely to Stain
Additionally, over time bonding tends to stain and discolour quicker than normal teeth. This is especially true if you drink coffee, tea or red wine, or if you smoke. However, bonded teeth can often be polished successfully. However, the artificial bonding material cannot be whitened.
Bonded Teeth Should Only be Used in Certain Situations
Bondings are not a substitute for crowns. While bonding is able to replace some of the aesthetic problems that crowns would have been necessary in the past, bonding should only be used for aesthetic corrections. If trying to correct the functionality of teeth, only crowns will do.
Bonding Teeth can Hide an Existing Problem
Bonding should not be placed over areas of tooth decay. This is an occurrence that has happened on numerous occasions where careless dentists placed bonding over decay. This will allow bacteria to grow unchecked, causing major rotting, and requiring expensive reparative and restorative dentistry.
---
Taking Care of Bonded Teeth
Bonded teeth require the same amount of care as your natural teeth. Make sure to brush and floss twice a day. Be sure to brush and floss regularly, and see your dentist for regular checkups. If you take good care of your teeth, they will last for many years to come!
---
Key Takeaway About Teeth Bonding
Despite the risks, teeth bonding is an immensely helpful technique when used appropriately. With a skillful dentist, teeth bonding provides an inexpensive and excellent solution to previously awkward aesthetic problems. It can be a confidence builder for people who have felt teeth insecurity their whole lives.
If you are considering teeth bonding, be sure to consult with a qualified dentist to discuss if this is the right treatment for you.
---
Disclaimer
The contents of this website, such as text, graphics, images, and other material are for informational purposes only and are not intended to be substituted for professional medical advice, diagnosis, or treatment. Nothing on this website constitutes the practice of medicine, law or any other regulated profession.
No two mouths are the same, and each oral situation is unique. As such, it isn't possible to give comprehensive advice or diagnose oral conditions based on articles alone. The best way to ensure you're getting the best dental care possible is to visit a dentist in person for an examination and consultation.